The icastGo platform allows speakers to use a wide range of tools to broadcast their speeches.
From browser, phone, audio bridge, client or Skype Enterprise meeting, video conferencing unit or bridge
From a Microsoft Teams meeting
For a means of connection other than a Microsoft Teams meeting, icastGo allows a direct connection.
The connection to a Microsoft Teams meeting is only possible from icastGo (to Microsoft Teams).
Important facts about Microsoft Teams:
Microsoft Teams does not offer the ability to call to a third-party client natively.
Microsoft Teams does not accept calls from third party clients natively.
The call must be routed through a third party solution qualified by Microsoft.
This system is set up within the "holder" (subscription) who organizes the MS Teams meeting.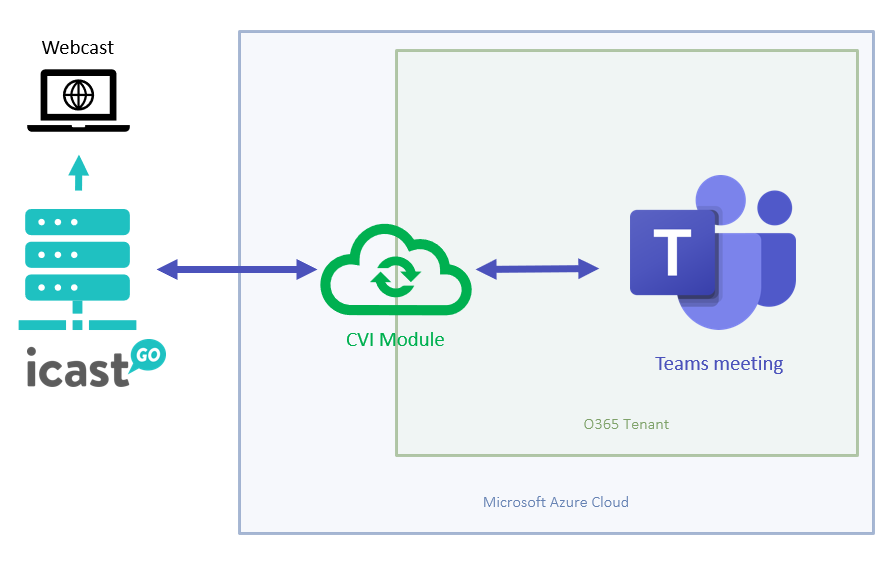 > To broadcast a Microsoft Teams meeting you need to activate a third party CVI solution within your Teams subscription. (O365)
Cloud Video Interop (CVI)
Microsoft defines the CVI as a third party solution that has been qualified by Microsoft to provide access to third party meeting rooms or personal video devices (VTCs) for the purpose of participating in meetings in Microsoft Teams.
Digicast recommends using the Pexip Cloud Video Interop Service hosted CVI.
Integration is fast and does not require any specific deployment.
Please contact your Digicast representative for a CVI solution implementation estimate.