In this article
Concepts
Types of access
For participants
icastGo lets you define different levels of access restriction to a webcast.
Full access: No access control is carried out; a person with the participant link will be able to see the content.
Confidential: An identity check is performed and several options are available


A list of participants is created in advance and only its members are allowed.
One or more domains are identified in advance and only email addresses belonging to these domains are allowed.
If a webcast is defined as confidential, participants must connect to it.


To do this they use the webcast connection form.

This will be displayed if the webcast is marked as confidential.
👉🏻IMPORTANT: The access path to the webcast is as follows:

Access link > Identity verification > Registration > Webcast
This means that if security is disabled, registration will still be required in order to access the webcast.
For the organizers
| | |
| --- | --- |
| Unlike the participants, the organizers use the login page for the platform. | |
Once connected to the icastGo platform, an organizer has access to all content belonging
to his organization.
He can access a webcast, regardless of the participant access restriction defined, by clicking on the

icon.

For the speakers
Like the organizers, the speakers
use the platform login page.
Once connected to the icastGo platform, a speaker has access to all content that has been assigned to him or her, or content for which he or she has been identified as a speaker by an organizer.
URL Links
Participant links are different from access links for speakers and organizers.
Connect to the platform: https://app.icastgo.com/
Participant access: https://app.icastgo.com/event/[Webcast-Key]
The "Webcast Key" is automatically generated by the platform when the webcast is created
and is not predictable.
Trusted third parties
icastGo offers three methods for validating the identity of its users.
Operation
Participants
Organisers and speakers
Email / password
After activating his or her account by clicking on a link included in an email sent to his or her address, the user then defines a password.

X

Email / PIN / Link with login
After entering his or her email address, the participant receives a PIN and a one-time login credential.

X

Identity Provider (SAML ou OIDC)
Please contact us
Documentation SSO

X

X
Managing participant access to a webcast
To configure participant access to a webcast
Login as an organizer
Select the webcast from the home page or search results
Click on the Privacy icon or select from the menu on the left


Free access
Privacy is disabled by default. Participants who have the link can access the webcast directly,
both live and in replay.
If it has been activated, click on the switch to deactivate it.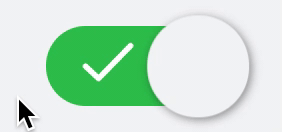 Restricted Access
The system will verify the identity of participants according to the procedures set out here.
> Trusted third parties
Specify an authorized domain
Once privacy is enabled, you have the option of adding an authorized domain name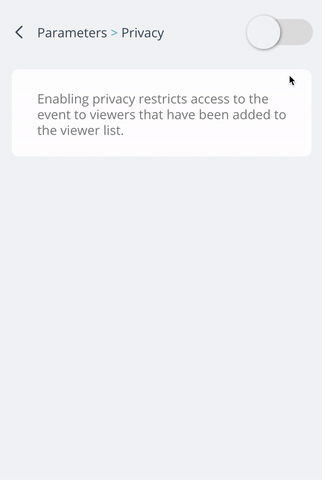 If no domain is specified
👉🏻 ONLY THE PARTICIPANTS LISTED IN THE "PARTICIPANTS" SECTION OF THIS WEBCAST
WILL BE AUTHORIZED
If one or more domains are specified
👉🏻 EMAIL ADDRESSES WITH THIS DOMAIN AS WELL AS THE PARTICIPANTS LISTED IN THE "PARTICIPANTS" SECTION OF THIS WEBCAST WILL BE ALLOWED