The following tips are intended to maximize the quality perceived by participants.
The image and sound processing by icastGo will be optimal.
Sound recording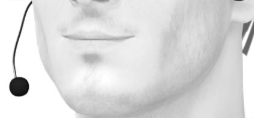 We strongly recommend the use of a headset* (integrated not). This ensures that the distance between the source and the microphone is always the same.
Position it 2-3 cm below the mouth. No sensitive parts of the microphone should come into contact with the speaker's clothing or skin.
In the case of a wireless system, make sure that you have spare batteries and replace them
every two hours.
Conduct tests using the unit's speakers rather than headphones.
Shooting
Webcam
Adjust height to eye level




Adjusting the height :


Eyes should be at a third of the height of the image
Make sure there is not too much "air" above the head.
In a conference room
Respect standard field sizes




Waist shots are preferable
If the speaker is likely to move into a horizontal shot, make sure the frame is wide enough
for the speaker to remain on the screen.
Lighting
Lighting comes from the top and from the front.
If possible, face a window to use daylight.
The background should be generally less illuminated
Background
Plain or with few details
Stationary (not moving)
Logos on the webcast page or in the slides are not very useful.