Have you just been invited to speak on a webcast on icastGo?
Please ensure the following:
🔐 Activate your Account
Click on the activation link (it was sent to you by email with the subject "Account Activation")


Enter a password in both fields and validate
​
​


Wait to be redirected to the login page
​


Log in using the address where you received the activation email and the password defined in the previous step.
⤴Return to the top of the Article
🎙 Gear and Environement
Reccomended Gear
Mac ou PC Computer with a webcam
Headphones or Headset with integrated microphone
💡 Phone headphones plugged into your computer will do just fine.
📵Using a smart phone or tablet is not recommended
"Modern" Browser
We recommend one of the following browsers:
Google Chrome
Microsoft Edge
Mozilla Firefox
Apple Safari
🚫 Microsoft Internet Explorer is not compatible
🚫 The use of a Citrix virtual desktop is not supported
Internet Connexion
We recommend using a wired internet connection.
Make sure it is dedicated to your use and not shared with bandwidth-intensive services (video platform, large download, etc.)
The required speed is around 3Mbps up and down
Environnement
On the computer used

Close or disable any apps that use your camera or microphone
Close applications that consume hardware resources or bandwidth

Be sure to choose a calm, quiet and well-lit place (in front of a window is ideal)
Place the camera at eye level
Make sure the face is centered vertically and horizontally in the frame
⤴Return to the top of the Article
🎬 Enter the Virtual Meeting
An organizer has invited you to be a speaker on a webcast
Connect to icastGo using your email address and the password defined when activating your account
Select the webcast you want to join as a participant
Click the Call as Speaker button
To connect from your computer, select the "Using a camera and Microphone" option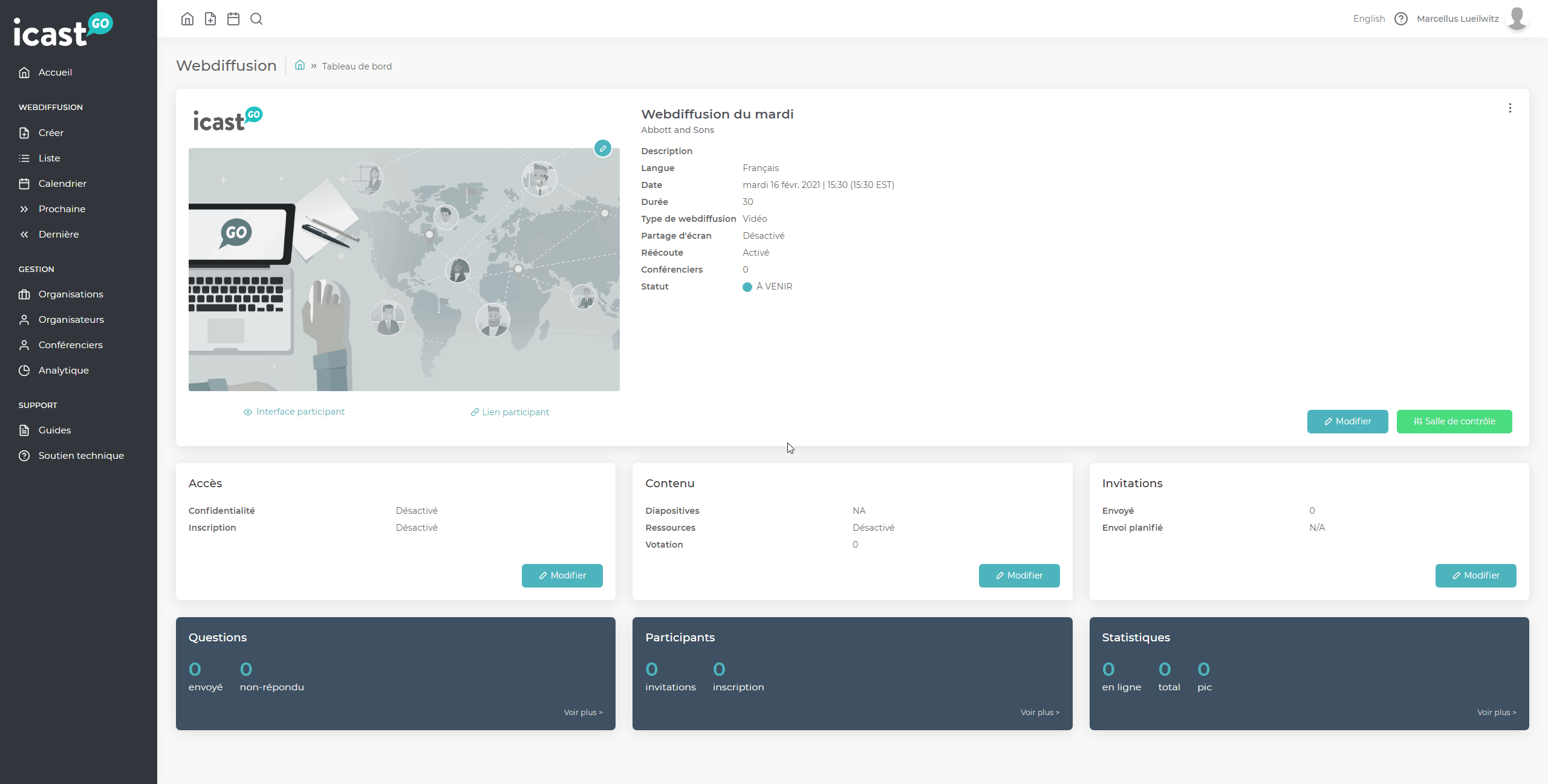 ⤴Return to the top of the article
📡 Webcast your conference
Once in your virtual meeting room
Activate your microphone when you want to speak.



Look at the viewer's questions.



If the organizer has activated this feature for you, use the arrows to play the slides once live (it is not possible to play the slides before the live
⤴Return to the top of the Article